Hernando's Hide-A-Way's Storied Past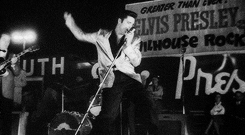 As the text on our Historical Marker Sign reads, "Hernando's Hide-A-Way, featuring rockabilly music for over 50 years, closed in 2006.
Elvis Presley played here in 1953.

Johnny Burnette sang of "The Hide-A-Way* in the 1956 hit "Rock Billy Boogie."

The song "Hernando's Hideaway' in the 1957 movie The Pajama Game made the name more famous.

Joe Arnold & The Memphis Four and Billy Adams & The Nuggets were the house bands in the 1960s and 1970s, often joined by the likes of Charlie Rich, Duck Dunn and others.

Originally outside the city, the club was known to be rowdy; arsonists burned an expansion in 1982. Once restored, Jerry Lee Lewis appeared so frequently
he called the club his "office".

In 2018, musician Dale Watson & his wife Celine Lee reopened the club and brought to town the Ameripolitan Awards celebrating rockabilly and honky tonk music.

SPONSORED BY THE LANSKY FAMILY AND THE SHELBY COUNTY HISTORICAL COMMISSION"
Long before Tennessee's married women gained personal property rights, Mary E. Kiley McCarney's "prenuptial agreement" and Last Will enabled her female descendants to control this property for the next three generations.

The Irish-American widow paid her second husband in 1892 for the two acres surrounding this site, once part of a 1820's-era plantation.
She operated stores elsewhere while her daughter Nellie operated one here until 1943. Mary's will gave Nellie full legal control. Then Nellie's daughter Margaret inherited under the same terms.
She leased the store to various nightclub managers until she sold it in 1980. After Margaret's
death, her daughter Eleanor subdivided the rest of the tract.